Our heart at Eat Wright Farm is to inspire and encourage people to be as healthy as possible. This page is dedicated to healthy living solutions and information that we hope will help you on your quest for good health! New information added all the time!!


Recipes! Some of our favorites and some suggestions for using some of the great produce you'll find on our market table.

Pickled Hot Peppers!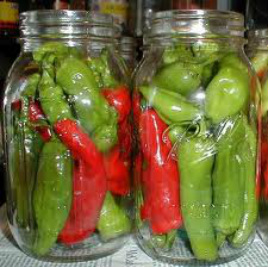 Yield: About 4 pints
Ingredients:
2 pounds of Banana peppers
1 pound of Jalapeno peppers
6 cups of vinegar
2 cups of water
3 cloves of garlic, crushed
Ball Pickle Crisp (optional)

Instructions:
Leave peppers whole or cut 1-inch pieces. Mix peppers together. Combine vinegar, water and garlic in a large sauce pot. Bring mixture to a boil; reduce heat and simmer for 5 minutes. Discard garlic. Pack peppers into hot jars, leaving 1/2-inch head space. Add Pickle Crisp to each jar , if desired. Ladle the hot vinegar and water mixture over peppers, leaving 1/2-inch head space. Remove air bubbles. Adjust two-piece caps. Process 10 minutes in boiling water caner.
Note: When cutting or seeding hot peppers, wear rubber gloves to prevent hands from being burned.



---